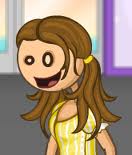 Utah is a customer in Papa Louie's restaurants.She is an American from Calypso Island.At the intro of Papa's Freezeria,she appeared but she had blond hair.Her favorite is cookie dough.
Appearance
Edit
Utah is a teenager which has brown hair that is ponytailed.She has yellow shirt and blue jeans with roped belt.She has white shoes with yellow laces.
Papa's Freezeria, Papa's Freezeria HD, And Papa's Freezeria To Go!
Large Cup And Medium Cup
Cookie Dough And Strawberries
Chocolate Syrup And Pink Lemonade Syrup
Regular Blend
Whipped Cream And Chocolate Whipped Cream
Chocolate And Sugarplum Topping
Rainbow Sprinkles And Wildberry Derps
Cookie, Cherry, Cookie
3 Cherries
Medium Cup
Cookie Dough
Chocolate Syrup
Regular Blend
Chocolate Cream & Whipped Cream
Chocolate Topping
Rainbow Sprinkles
Cookie, Cherry, Cookie
Papa's Pancakeria
Edit
French Toast
Pecan Mix
Cinnamon
3 Strawberries
Raspberries
Honey
Large Cup of Coffee with Cocoa
Papa's Wingeria
Edit
6 wings
Spicy Garlic Sauce
6 Boneless wings
Calypso Sauce
3 Kung Pao Dips(Ranch Dip if locked)