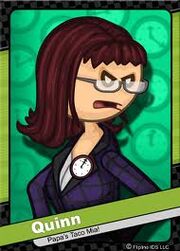 Quinn is a customer at Papa Louie's restaurants.She is one of the top lawyers in state,and she offers a legal representation of Papa Louie and his many restaurants.Her law firm is presently called "Just Quinn and Associates",after her longtime buddy Timm, just left.She only finds time to dine at Papa's restaurants and can be extra picky with her food.she is forever closer.
Appearance
Edit
Quinn has short brown hair and wears a transparent lensed glasses.She wears a violet coat and skirt decorated with red buttons.She had red shoes with laces with the same color but darker.Her right collar in her collar is connected to a timepiece which continued spinning over and over.
Papa's Taco Mia
Edit
Pita(hard if not yet unlocked)
Pork(Chicken if not unlocked)
Hot Sauce
Lettuce
Peppers
Sour Cream
Jalapenos
Papa's Freezeria
Edit
Medium Cup
Marshmallows
Chocolate Syrup
Regular Blend
Whipped Cream
Chocolate Chips
Walnuts
Cherry
Papa's Pancakeria
Edit
3 Pancakes
Pecan Mix
Cinnamon
4 bananas
Blueberry Syrup
Papa's Wingeria
Edit
Ad blocker interference detected!
Wikia is a free-to-use site that makes money from advertising. We have a modified experience for viewers using ad blockers

Wikia is not accessible if you've made further modifications. Remove the custom ad blocker rule(s) and the page will load as expected.