Welcome to the Papa Louie Arcade Games Wiki
"
Become a perfect chef as you play at Papa Louie Arcade Games
Papa's Pizzeria, Pancakeria,and others!
"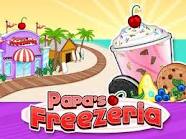 Papa's Freezeria is a restaurant owned by Papa Louie. It serves multi-flavored sundaes that can satisfy your customers. The restaurant is handed to the character you play because Papa will enjoy his vacation.
The instructional guide at the game will first introduce the sections, Order section, Build station, Mix station,and Top station.
The Order Station is where you will put vanilla,syrups, and mixables in different sized cups
The Mix Station is where you will mix the sundaes
The Top Station is where you will put toppings, cream and syrups
Finally, the Order Station is where you will take customer's orders by writing them in tickets
Next, the guide will take you to the Build Station to add mixables and syrups. Mix Station is where the guide takes you to mix the sundae. Lastly,it takes you to the Top Station where you put toppings at the sundae. You need to drag the desired ticket on the holder. After finishing,the sundae will be taken to the customer,which they judge its taste.
Loading RSS data...