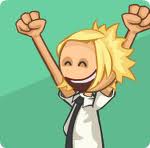 Clover is a customer in Papa's restaurants.She is a young girl who plays drums very well.She is Marty's sister as revealed in her brother's flipdeck.
Appearance
Edit
First appearances
Edit
Clover has blond hair and wears a white uniform with a black tie,blue pants with a grey belt.She wears white shoes with black tips and laces.
Second Appearances
Edit
She now has golden hair and has a hair accesory which is styled with a finish line pattern.She also has drumsticks in the pockets of her pants.
Papa's Burgeria
Edit
Top Bun
Onion
Lettuce
Cheese
Rare Patty
Pickle
Bottom Bun
Papa's Freezeria
Edit
Cherry
Cookie
Tropical Charms
Whipped Cream
Regular Blend
Cookie Dough
Vanilla Syrup
Small Cup
Papa's Wingeria
Edit
Ad blocker interference detected!
Wikia is a free-to-use site that makes money from advertising. We have a modified experience for viewers using ad blockers

Wikia is not accessible if you've made further modifications. Remove the custom ad blocker rule(s) and the page will load as expected.